I know I've been MIA from the blog or a while. I just really wasn't knitting for the longest time because I was distracted by cross-stitch. But then, I decided I would knit some Christmas gifts for my co-workers and a couple of other friends so I got busy. This post is a wrap-up of the Christmas gifts I've made so there are quite a few photos. And I must apologize for the quality of the photos because I was in a rush to take the photos and then mail out or give out gifts. I will try and get my friends to take photos themselves using the gifts and send them to me.
Sarah's Scarf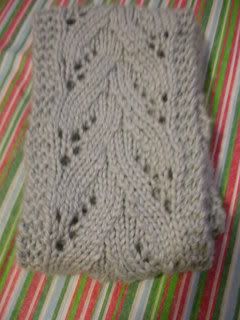 Pattern: Susan's Scarf
Yarn: Debbie Bliss Alpaca Silk Aran in a light blue (25017)
Date Started: November 5, 2008
Date Finished: November 9, 2008
Notes: This yarn was so wonderfully soft and nice to knit with. Only a couple of times did it tickle my nose – I guess a bit of it fluffed off. The pattern was really easy to follow and looks so pretty finished and I would definitely knit it again.
Lacy Girly Hat & Scarf Set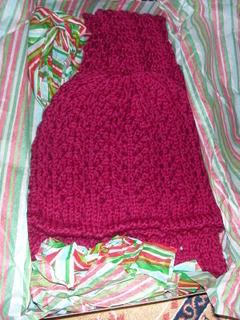 Pattern: Lacy Girly Fancy Hat
Yarn: Louet Riverstone Worsted in Fuschia
Date Started: November 5, 2008
Date Finished: November 19, 2008
Notes: I used the same stitch pattern from the hat to make the scarf so it would be a matching set. I'm not 100% sure the hat will fit the recipient but I did block it as much as possible just to give it more of a chance to fit.
Hemlock Ring Blanket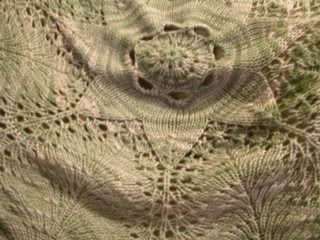 Pattern: Hemlock Ring Blanket. There are many versions of the written pattern out there, the most famous being Jared Flood's. My chart reading skills are not that great so I didn't use his version. After some hunting I found the link again for the version I used.
Yarn:Malabrigo Worsted in Veviter colorway.
Date Started: July 6, 2008
Date Finished: December 16, 2008
Notes: I stopped knitting this on round 117 so it didn't end up as big as the original should be, but it still made a nice sized lapghan. Honestly I kind of got weary of the stitch pattern and I had a deadline of December 20 to finish it so I could give it to my boss for Christmas. The yarn, of course, was a dream to knit with – can Malabrigo be anything else but a dream?
Gina's Scarf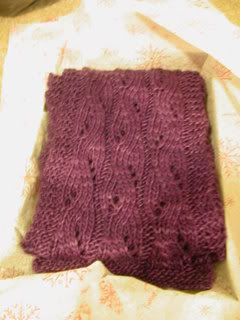 Pattern: Falling Water
Yarn:Malabrigo Silky Merino in Blackberry.
Date Started: December 8, 2008
Date Finished: December 19, 2008
Notes: This pattern was easy to follow and the yarn was great too. I think the yarn worked well with the pattern too. I think I'll be making another one of these scarves for myself.
Mary-Ann's Apron
My co-worker Mary-Ann is a tea drinker just like me, so I had to make her something tea related. I did knit her a tea cozy but for some reason I didn't take a photo of it, or if I did, I can't find it now. Anyway, I then found this fabric in my small and packed away fabric stash and knew I had to use it for a gift. I ended up making an apron – no pattern, just my imagination and limited sewing skills. It went over really well – I think I made her cry!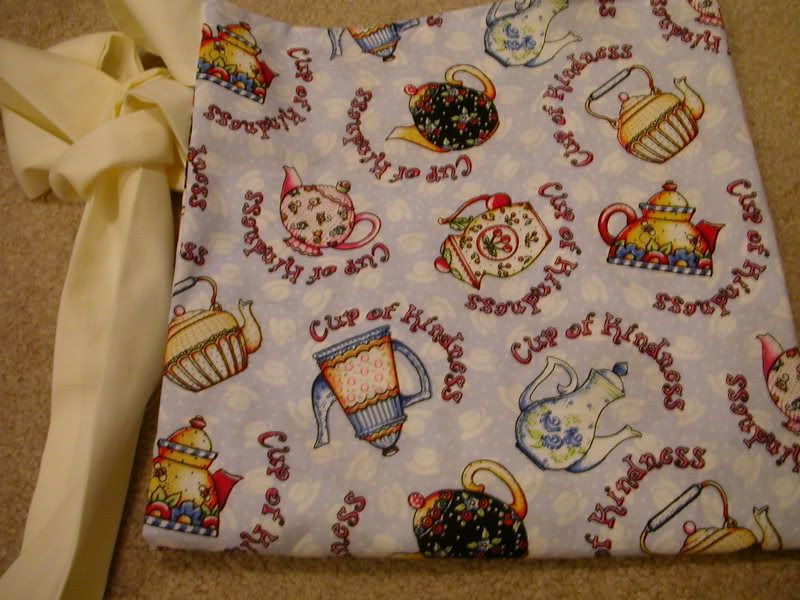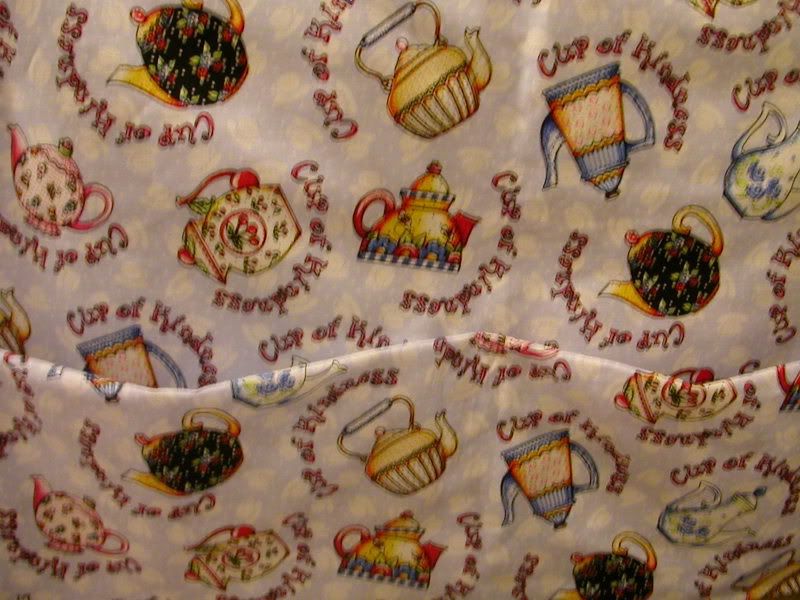 Sorry for the blur, but I wanted to showcase the front pockets I added.
Tammy's Blanket
I had some of this snow-flake fleece in my fabric stash and some green fleece left over from a past project. I like the snowflake fabric because it's different from regular snowflake fabric and it's got a bit of color.


Whew! So if you're still with me – it took over an hour for me to compose this post. Have a very MERRY CHRISTMAS! Okay, and for some reason my sewn gift photos messed up and didn't resize to small like the others. I'm too lazy to deal with it now.